Saturday February 25, 2023
WordCamp Asia 2023 Bangkok Roundup: From Thailand to the World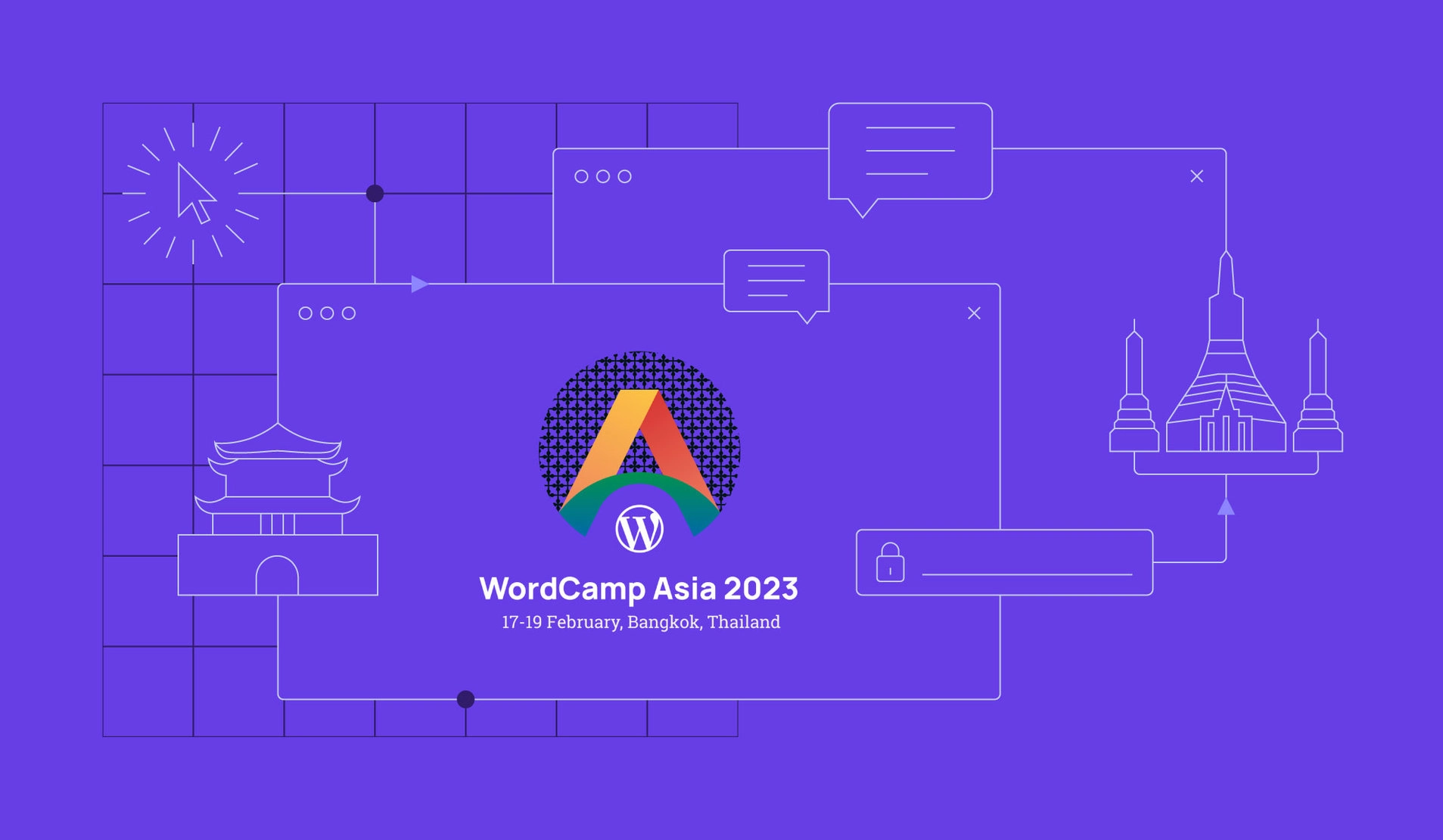 After being postponed due to the pandemic, WordCamp Asia 2023 finally took place in Bangkok, Thailand, between the 17th and 19th of February 2023.
This first flagship WordCamp in Asia was attended by 1,299 people worldwide, and more than 3,000 people watched the live stream. The first day was Contributor's Day, while the last two days were for conferences.
It was our honor to participate in this event as one of the sponsors.
Democratization of Publishing
WordCamp's Contributor Day is full of activity activities for new and experienced WordPress contributors to get their heads together. With all hands on deck, attendees contribute to improving various aspects of the open-source CMS.
The best part is that you don't have to possess extensive coding knowledge to contribute to WordPress. All skills and experience levels are welcome.
There are various teams that people can contribute to. One is the Community team, which organizes meetups and WordCamps. Other teams include Polyglots, in charge of translating the platform, and Core, tasked with identifying bugs. There's also the Photos team – a great starting point for anyone looking to contribute. Simply submit your high-quality photos to WordPress Photo Directory – just make sure they adhere to the guidelines!
During Contributor's Day, attendees join a table of the team they're interested in. There, they learn how they can help with the project. Once they find their footing, they can sign up and start contributing. Attendees who are unsure can join multiple tables – after all, WordCamp is a safe space to learn anything and everything WordPress.
The communal contribution experience is one of the most empowering parts of WordCamp for many WordPress enthusiasts. It's a chance for people to get to know folk from various industries and see how the WordPress community members support each other.
Contributor Day is also the best opportunity to learn about WordPress's mission, Democratize Publishing. It is all about making the internet a more open place. Matt Mullenweg, a co-founder of WordPress, stated that the mission could begin with the software itself, with the Four Freedoms principle as its foundation.
The Many Facets of WordPress
The two Conference Days saw more than 50 talks held in three halls. The topics ranged from technical subjects to mental health, emphasizing how you can look at WordPress from multiple angles.
For example, the Leading with Cultural Intelligence session, presented by Petya Raykovska, touched upon the often-surprising multicultural dynamics of the global ecosystem. The talk addressed the challenges of communication strategies, including culture-based misunderstanding.
Petya, the table leader of the Polyglots team in WordCamp Asia 2023, stressed that the problem is not always about English proficiency. Instead, issues may arise from within the cultural subtext. This is also important to consider when improving WordPress – after all, contributors are located worldwide and in different time zones and work autonomously.
Topher DeRosia's Success Stories of HeroPress talk was also memorable. Topher discussed his website, HeroPress, which publishes stories of people using WordPress to make an impact or improve their lives. These accounts let others see what they could do with the platform and spark conversations among people who can relate. This results in meaningful connections and employment opportunities.
There were also sessions about marketing, such as Nirav Mehta's The One Sentence Secret to Marketing, Influence, and Getting a Yes. Nirav dug deep into the art of persuasion, and showed the audience how persuasion is not about the one who does it, it's about the other person. It's a valuable knowledge to learn, since essentially people create websites to influence other people.
The Future and Five for the Future
The Five for the Future initiative launched in 2014, and it's still going strong. It encourages individuals and organizations to contribute five percent of their resources to the platform's growth.
During WordCamp Asia, Hari Shanker explained more about this initiative in his Ten Minutes on Five for the Future talk.
For those still unsure how to start their WordPress contribution journey, sessions like Birgit Pauli-Haack's Case Study: A #nocode Contributor Journey on the WordPress Gutenberg GitHub Repo can be a great starting point. In this talk, Birgit points out how non-developers can also jump on the GitHub repository to help, comment on issues, and test upcoming changes.
Like all the previous WordCamps, you can watch the sessions and interviews with notable WordPress figures on WordCamp Asia's live stream page and WordPress TV. This can be a great way to prepare for the next WordCamp Asia, which will be held in Taipei, Taiwan, in 2024.
And if you're still unsure whether you've got what it takes to contribute to WordPress, all you need to do is just start. The community will always have your back if you need help navigating through any issue or question.